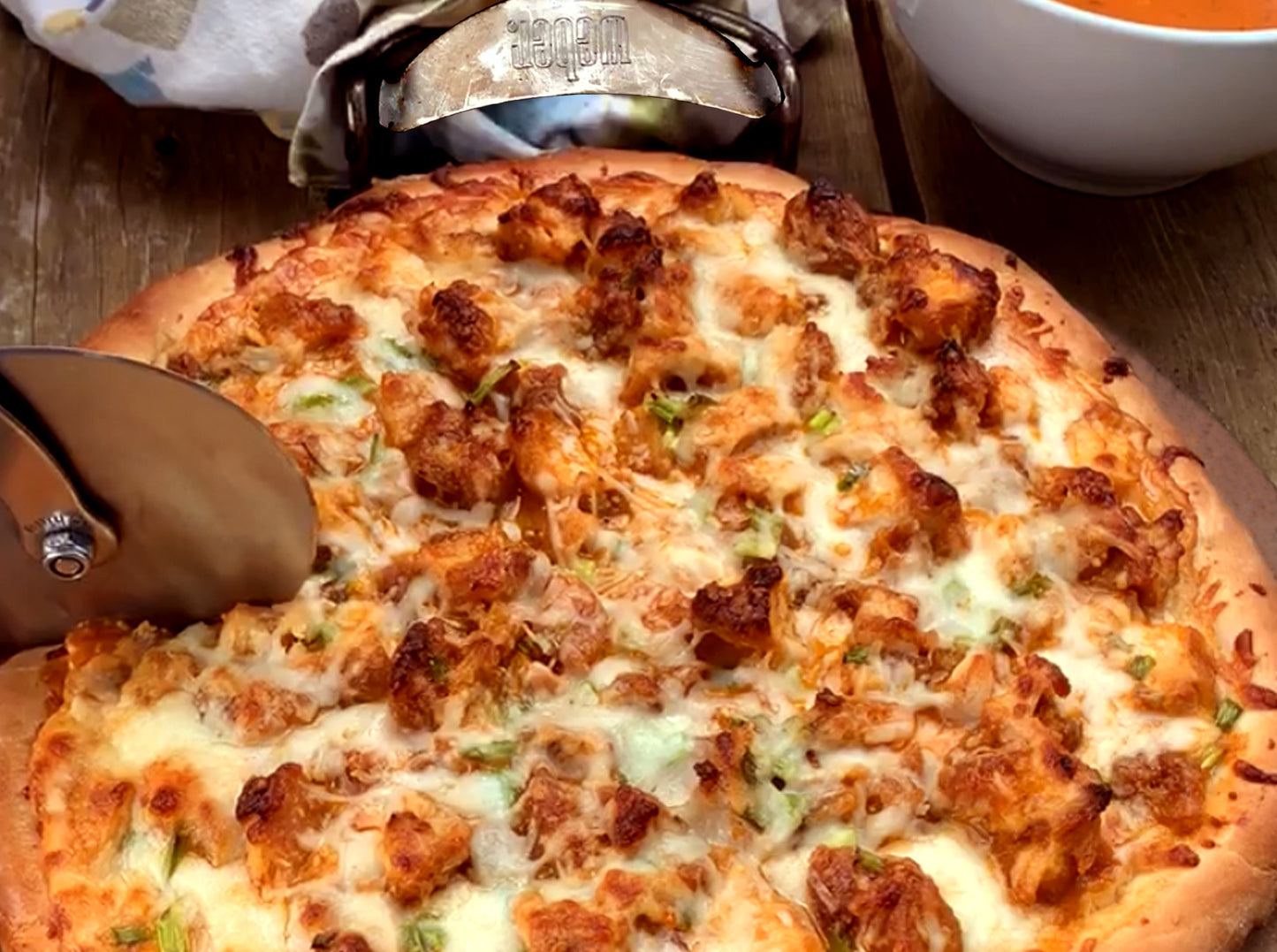 BUFFALO CHICKEN PIZZA
Our favorite pizza is the homemade kind. And it's all about the sauce. We use a family recipe to create this delicious buffalo pizza sauce and top it with Chicken & Waffles Buffalo Chicken, crisp celery and buttery blue cheese.
INGREDIENTS:
Olive Oil
Cornmeal
Blonde Beard's Buffalo Pizza Sauce (recipe below)
Pre-made Pizza Dough (from refrigerator section in grocery store)
2 Cups grilled, fried or leftover Chicken
1-2 Cups shredded Mozzarella Cheese
1-2 Cups shredded Italian Blend Cheese
1 Cup shredded or chopped Celery
½ Cup shredded or chopped Carrots
¼ Cup chopped Onions
Blue Cheese crumbles (optional)
Blonde Beard's Chicken & Waffles Buffalo Sauce 

BLONDE BEARD'S BUFFALO PIZZA SAUCE:

4 oz Tomato Sauce
4 oz Blonde Beard's Chicken & Waffles
1 Cup fresh Basil
2 tsp fresh Garlic
1 tsp Italian Seasoning
(refrigerate or freeze the leftovers)
DIRECTIONS:
Preheat grill or oven to 450 degrees.

Prepare a pizza stone or inverted baking sheet with a layer of corn meal.

Place dough onto a lightly floured surface and gently roll out to a circle about 1/4 in. thick. 

Par-bake dough for crispier crust. (optional) (follow pizza dough instructions)

Make pizza sauce. (can also do ahead of time and refrigerate)

Chop chicken into bite size pieces and toss in Blonde Beard's Chicken & Waffles.

Brush Blonde Beard's Buffalo Pizza Sauce on the pizza dough.

Sprinkle on Mozzarella and Italian Cheeses (saving some for topping).

Add your toppings; Chicken, Celery and Green Onions.

Sprinkle with Blue Cheese and/or remainder of other cheese.

Follow pizza dough instructions. General rule of thumb, bake for 10-13 minutes. Check around 8 min. Pull when crust is golden brown. 

Drizzle with Blonde Beard's Chicken & Waffles.
SAUCE PAIRING