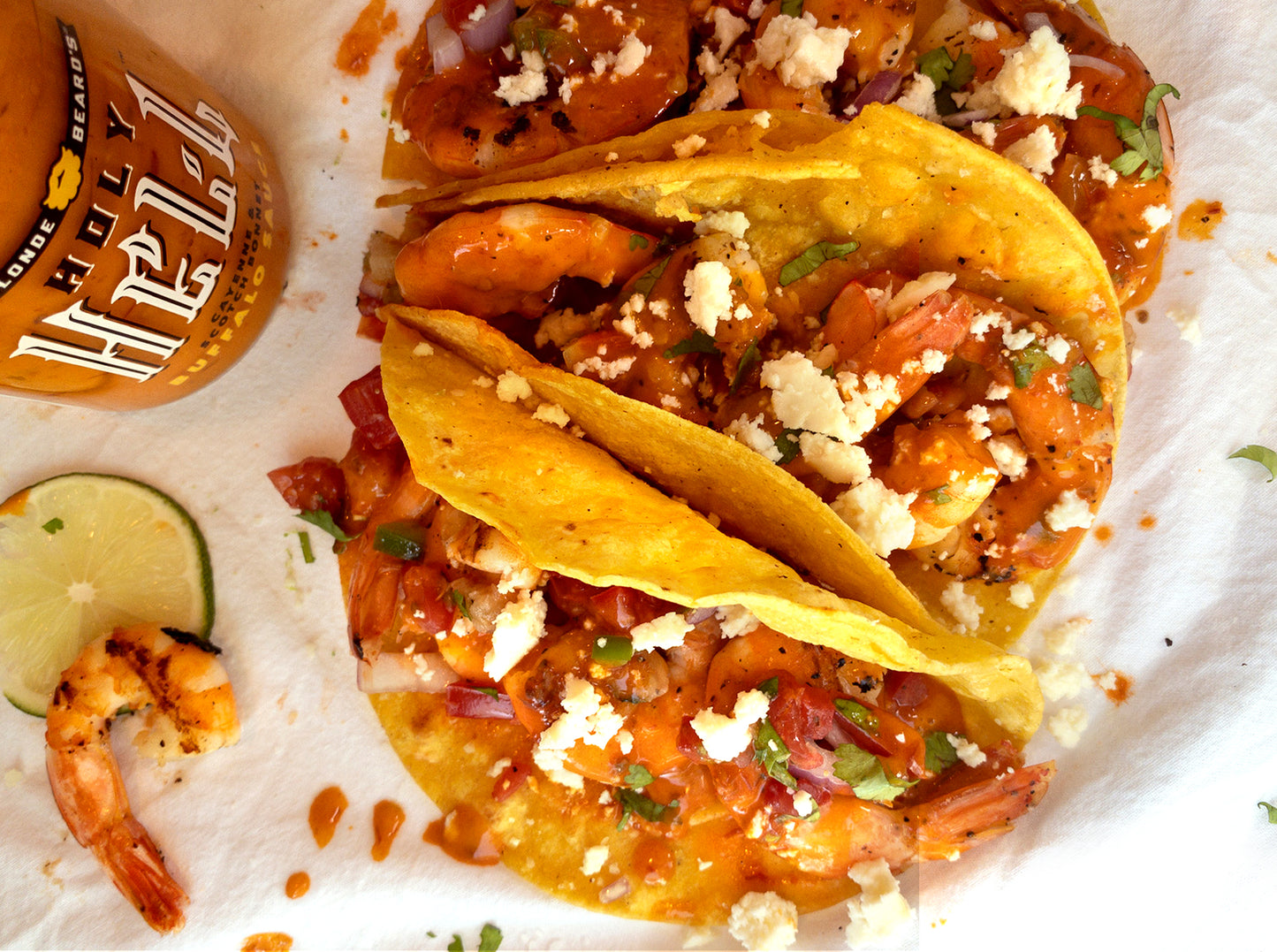 Scotch bonnet peppers are the star of our Holy Hell sauce. They are fruity in nature and native to the Caribbean Islands. Pair Holy Hell with any seafood, like these delicious grilled shrimp tacos and fresh juicy pineapple salsa. 
INGREDIENTS
Salsa:
1-2 Tomatoes, diced
1-2 Cloves of Garlic, minced
Red Onion, chopped - to taste
Cilantro, chopped - to taste
1-2 Grilled Pineapple rings, diced
Salt & Pepper - to taste
 Tacos:
1 lb fresh shrimp, peeled with the tails left on
Seafood spice
Tortillas - corn or flour

Cotija Cheese

Blonde Beard's Holy Hell
COOKING INSTRUCTIONS

Salsa:
Dice tomatoes. Crush the garlic. Thinly slice the red onion, dice the cilantro.

Place pineapple on a medium-high grill until caramelized. Remove from grill, dice into small chunks.

Mix all ingredients in a bowl, add salt and pepper to taste.
Tacos:
Prepare a medium-high charcoal or gas grill fire. Make sure to oil the cooking grate before putting on the shrimp. We like using canola oil because it has a high smoke point.

Sprinkle seafood spice on the peeled shrimp to taste.

Grill shrimp until they curl and become pink, flipping half way through cooking, about 2 to 3 minutes per side.

Once cool, pinch off shrimp tails and add to tortilla.

Top with Salsa, Cotija Cheese and Blonde Beard's Holy Hell Buffalo Sauce.
SAUCE PAIRING